Speakeasy Solutions announces the availability of Olympus' newest digital dictation system — the DS-7000 digital voice recorder and the AS-7000 transcriber.
Endless configurations, easy to use, and adaptive to any size office or solution.
While Dean of Speakeasy Solutions is the digital dictation specialist, Alexandria (myself), the Dragon specialist, is having tremendous fun exploring the new ODMS software — particularly its integration with Dragon NaturallySpeaking speech recognition software.
DS-7000
The new industry standard in professional dictation equipment.
Designed for professionals who rely on secure, flexible, reliable products as integral parts of their office workflow, it features real-time 256-bit file encryption, a redesigned, independently housed microphone, enhanced battery life and next-generation Olympus Dictation Management Systems (ODMS) software.
The DS-7000 – Dictation … defined.
2-Inch Colour LCD screen
Dual SD and MicroSD card slots
Durable, precise slide switch controls
3 programmable buttons
Slide switch operation
Key Features
Full Workflow Integration
Packaged with next-generation Olympus Dictation Management System (ODMS) software and compatible with Nuance Dragon NaturallySpeaking speech recognition software, the DS-7000 is designed to become an essential part of any office's dictation workflow directly out of the box. Support for up to 32 index marks per dictation file makes it easy to locate critical information.
Enhanced Security
Device password protection and DSS Pro real-time 128- or 256-bit file encryption makes the DS-7000 ideal for workplace environments that deal with sensitive information.
Endless Flexibility
A vast array of functions and accessories, audio codes and indexing options, as well as support for multiple worktypes and users, makes the DS-7000 customizable enough to suit any purpose in any IT environment. The ODMS software is compatible with Microsoft Windows 7, Vista and XP and Mac OS X.
Superior Sound Quality
The DS-7000′s redesigned, speech-optimized microphone is independently housed for flawless sound reproduction. It offers multiple recording modes, as well as two quality levels – QP (16 kHz/28 kbps) and SP (12 kHz/13.7 kbps). Geared for Dragon NaturallySpeaking, it is designed to become an essential part of any office's integrated workflow directly out of the box.
Multi-function Cradle
A redesigned docking station recharges the Li-ion battery and allows for hands-free recording, playback and interaction with the ODMS software. It also provides an AC connector and foot switch input for simple, high quality dictation.
Technical Features
Expandable Storage Capacity
Dual SD and microSD card slots allow for up to 32GB of total memory. The included 2GB microSD card holds up to approximately 306 hours of recording time in SP mode and 149 hours in QB mode.
Multiple Language LCD
The DS-7000′s 2-inch color LCD screen supports 3 languages, English, French and Spanish, as well as personalized welcome messages.
Longer Battery Life
A Li-ion battery (710mAh), rechargeable through your computer's USB port, allows for up to 26 hours of recording time on a single charge.
Intuitive Controls
A durable, precise slide switch, redesigned playback controls and three programmable function buttons allow for simple, easy device operation.
Watch It In Action
The Olympus DS-7000 Digital Voice Recorder
Package Contents
DS-7000 Digital Voice Recorder
Li-Ion Rechargeable Battery (LI-42B)
AC Adapter (A-517)
USB Cable (KP-21)
Olympus Dictation Management System CD
DSS Player for Mac
Carrying Case
Docking Station
For a Robust, easy to use digital recorder…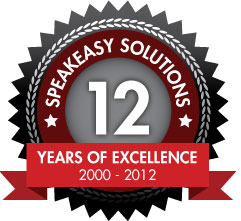 Why Buy From Us?
Speakeasy Solutions Inc. is dedicated to providing you with personal, professional, and honest service. We strive to maintain ongoing relationships with our clients and provide them with expert support and the information they need to maximize their potential.
Implementing the Solution
Speakeasy Solutions Inc. provides Olympus DS-7000 recorders & AS-7000 transcribers, as well as Dragon NaturallySpeaking & Dragon Medical Practice Edition.
Based in Vancouver, BC, Speakeasy Solutions Inc. provides digital dictation installation & setup, as well as Dragon software/licenses, along with installation, support and training services across Canada, from coast to coast.
We are in our 12th year of assisting physicians, lawyers and professionals expertly utilize speech recognition and digital dictation solutions towards streamlining office efficiencies.
Contact us any time for further information, a telephone consult or place an order via our website. We look forward to working with you.