Dragon PC Products
Speakeasy Solutions Inc. provides you with the world's best-selling speech recognition software and packages, enabling you to dramatically increase your productivity.
Transform Your Voice into Text & Computer Commands
Dragon enables PC users to create documents and email, fill out forms, and streamline workflow tasks -- all by speaking!
Fast, easy, and amazingly accurate.
Dragon offers complete hands-free use of the PC for disabled users.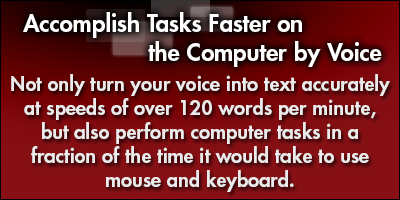 Three Keys to Success with Speech Recognition
Those who receive hardware guidance, and learn to use speech recognition (also known as voice recognition) software in their environment from a professional trainer will succeed with speech recognition beyond those who do not receive such expert support. With more than 16 years providing speech recognition services, Speakeasy Solutions is able to quantify who succeeds, who fails, and why.
The three keys for success with speech recognition are:
Adequate hardware (PC, microphone) and software (edition of Dragon, antivirus product used, and resident applications and their versions),
Investment of your time in learning this technology, and
Installation and training with someone who can impart the appropriate knowledge required to set up and use speech recognition quickly and effectively.
Speakeasy Solutions wants you to more than succeed with speech recognition - Speakeasy Solutions would like to support you to achieve great things with speech recognition.
https://youtube.com/watch?v=ZHJugwyxtk0%3F%26vq%3Dhd720-A%26w%3D550
Dragon Medical and Professional (for PC) Top Features
Amazingly Accurate - More accurate than ever before, Dragon is often more accurate than typing. Dragon actually gets smarter the more you use it!
Faster Than Typing - Most people speak over 120 words per minute, but type less than 40 words a minute. That means you can create letters, reports and emails about three times faster with Dragon!
Easy to Use - Dictate letters, email, and surf the web by voice right away! No script reading required to get started.
Use with Almost Any Windows Program - Use your voice to dictate, edit and control virtually any Windows application, including the full Microsoft Office Suite, Microsoft Internet Explorer and more commonly used applications.
Increase Productivity - Create custom voice commands to automate and streamline repetitive tasks that you perform dozens of times a day.
Search the Web and Your PC By Voice - Use Dragon Voice Shortcuts to quickly search for information on the Web or on your own computer. Need to find some information on the Web? Just say "search the Web for Imitrex". Searching the Web or your computer was never faster – or easier.
Network Ready (NOT available in Dragon Professional Individual) - Includes roaming user support, enabling the use of a single Dragon user profile across multiple PCs.
Mobile - Dictate into a supported digital voice recorder for automatic transcription when you synch with your PC.
Hands-Free - Dragon gives people with disabilities complete hands-free use of the PC. The ideal tool to assist people with carpal tunnel syndrome or other repetitive stress injuries.
Robust Customization - Quickly create simple commands that will enter blocks of text. Automate complex, multi-step tasks. Easily import personal words and phrases into the existing vocabulary.