Installation
Begin with a firm foundation, utilizing Speakeasy Solutions' expertise in the skillful installation and setup of Dragon® Professional and Dragon® Medical Practice Edition.
Dragon PC Installation
Speakeasy Solutions is an authorized Value Added Reseller (VAR) & solution provider for Nuance's Dragon Professional® and Dragon® Medical Practice Edition products. As a result, we are privy to exclusive and timely information regarding the use and installation of the software. We also have access to the upper tier levels of technical support for Dragon, which becomes exceedingly important with respect to unique technical challenges.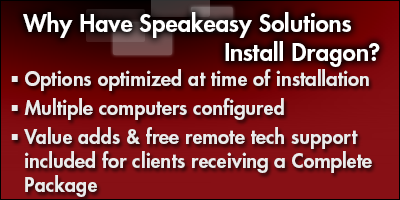 The installation of a speech recognition solution by Speakeasy Solutions on your equipment is effectively accomplished with the most current and extensive knowledge base, minimizing any potential issues that may arise.
Why Speakeasy Solutions for Installation
Multi PC Setup
If Dragon is required on multiple computers, it is most efficient when implementing Dragon's roaming user profile system.  Speakeasy Solutions effectively configures the roaming solution according to each individual's use of Dragon (i.e. dictating direct, digital recorder, or an assistant proofreading etc.).
PC Tweak
Speakeasy Solutions optimizes the computer based on resident operating system and applications, removing any bottlenecks possible that may otherwise impede Dragon's functionality.
Dragon Optimization
Dragon is configured to take advantage of optimal settings (Dragon's default installed settings are often not as effective for professional practitioners as tweaked settings), enhancing performance of the software and its future use.
Value Adds
For clients who receive a complete speech recognition solution package, Speakeasy Solutions also applies its custom Value Added configurations (i.e. regional word lists, vocabularies, commands etc.) to Dragon as well as its enhanced SpeechMike config file.
Dragon for Mac Installation
If desired, Speakeasy Solutions provides installation services for those who purchase Dragon for Mac.
Remote Installation
Speakeasy Solutions provides remote installation and setup services for your speech recognition solution. After your products are received, please contact Speakeasy Solutions at the appointed time, and we will guide you through the installation process as quickly and seamlessly as possible.
Remote installation requires the installation of a remote screen viewer called Team Viewer (Speakeasy Solutions guides you through this process as well), enabling us to view your computer's Windows screen. It is absolutely imperative that your computer have a high speed internet connection.
If your organization's network restricts TeamViewer, please contact your IT to set up a Cisco WebEx session for the service appointments.
Place an Order