Medical Solutions
Increase productivity & quality of work with your EMR, and improve patient care with an efficient workflow.
Speech Recognition
Dragon® Medical Practice Edition, the most powerful and widely used speech recognition solution in medicine today, lets physicians navigate and dictate into most Windows and remote EMR/EHR systems using voice. Doctors are able to dictate progress notes, prescribe medication, and access test results. By giving clinicians the power to dictate while reviewing the full medical record, physicians readily embrace EMR systems, dramatically accelerating EMR adoption.
https://youtube.com/watch?v=pex2VJX5URw%3Ffs%3D1%26vq%3Dhd720-A%26w%3D550
Literature Downloads (click to view)»
Posts from Speakeasy Solutions Inc.'s Blog»
Dragon Medical Practice Edition With & Without Digital Voice Dictation
Organized below is a flowchart outlining the use of Dragon Medical Practice Edition speech recognition in the medical office, or outside of the medical office with a digital voice recorder or Smartphone.
Some physicians will wish to control some or all aspects of letter and consult generation.  Others are far too busy to spend any time proofreading (editing their misspoken words or correcting Dragon's transcription errors).
Regardless of the level of involvement, Dragon Medical Practice Edition speech recognition saves a physician time, offers more control, and assists in completing documentation more quickly.
Click the image below to view full size.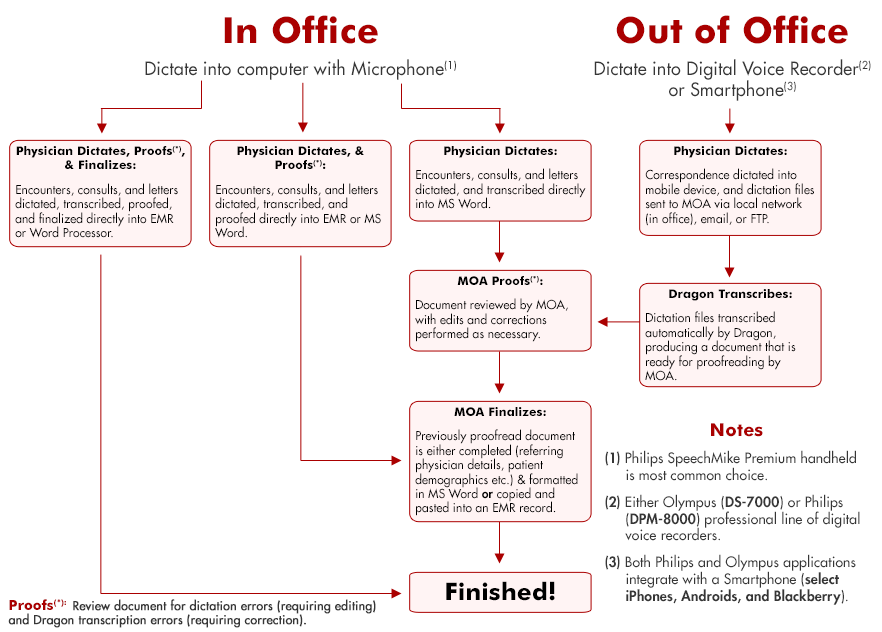 Digital Voice Dictation
Medical practices relying upon tape-based dictation processes may experience problems such as garbled dictation, broken tapes and inefficient transcription processes. Digital dictation streamlines dictation and transcription, increases productivity, and makes vital patient information available in a timely manner.
Literature Downloads»
Combining Speech Recognition & Digital Voice Dictation
When these two productivity enhancing technologies are combined, the solution offers the utmost flexibility for physicians who practice outside of their main office.  Many doctors spend short periods of time in remote locations such as Terrace, BC.
A combined speech recognition and digital voice dictation solution enables immediate transcription by Dragon® Medical (or a transcriptionist, if preferred), after which their clinic support staff directs the consult letters accordingly.  A well-planned workflow solution enables seamless integration of these two technologies, allowing medical offices to avoid a backlog of untranscribed dictations.
Literature Downloads»
Posts from Speakeasy Solutions Inc.'s Blog»