Olympus Transcription
While an office assistant continues to work with a headset and footswitch, the easy-to-use Olympus software streamlines the process of organizing dictations.
Professional Olympus Transcription Solutions
By coupling the DS-7000 with the AS-7000 Transcription Kit, efficiency can be taken up several notches in businesses of all sizes. Dictation thereby becomes a fully integrated part of the office workflow and the conversion from voice to text is made significantly easier.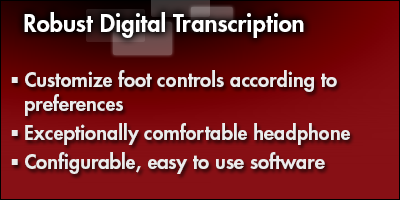 Available Models
Olympus AS-7000
The AS-7000 Transcription Kit combines with the DS-7000 and DS-3500 professional dictation systems – or other Olympus professional voice recorders – to provide a complete, end-to-end business solution. Featuring a redesigned, four-button foot control pedal, headset and next-generation Olympus Dictation Management System (ODMS) software, the AS-7000 is designed to be integrated into the workflow of any office system to significantly streamline data sharing and distribution of dictations between professionals, departments and office locations.
Streamlined Workflow
Special email and FTP functions allow dictation files to be automatically routed to predetermined locations or addresses upon downloading. Dictation files are automatically sorted by sender upon receipt, and document files are automatically entered into the workflow.
Advanced Organizational Tools
Created document files are automatically managed in association with dictation files (Windows only).
Multiple Format Playback
DSS, DSS Pro, WMA, MP3 and WAV/AIFF audio formats can be played in the background when another application – such as word processing software – is running.
Foot Switch Control
A redesigned, ergonomic, four-button foot switch allows for hands-free control of the playback process.
Expanded FTP Support
The next-generation AS-7000 Transcription Kit supports passive mode and SSL protocols (Windows only).
Enhanced Compatibility
The AS-7000 Transcription Kit features support for Citrix and Terminal Service, improved compatibility with Nuance Dragon NaturallySpeaking software and file sharing via ODMS and Olympus DSS Player Pro R5.
Improved Transcription
Specialized transcription tools include background dictation notification support and a transcribing "time remaining" indicator (Windows only).
OS Supported
Supports PC (Windows XP, Vista, and 7) and Mac (OS X.4.11-OS X.7 Lion). The Mac version of the software is not as feature-rich as the PC version. Please contact Dean of Speakeasy Solutions Inc. at 604-264-9109 (toll free 1-888-964-9109) ext. 103 to discuss your specific needs.
Organization & Workflow
1-7 programmable voice folders
10 author ID settings
20 work type ID settings
* Windows only (not available in Macintosh version).
Package Contents
RS-31 Foot Switch
E-62 Stereo Headset
Olympus Dictation Management System CD (R6 Transcription Module Software)
Product Downloads
Olympus RS-31H Footswitch

Compatible with Olympus Dictation Management System (ODMS) software and leading third-party applications, the four-pedal RS-31H footswitch combines the convenience of hands-free transcription with advanced features and configurability.
The RS-31H is compatible with HID keyboards. It can be configured for use with third-party software by using Olympus' free Configuration Tool (Download for Windows | Download for Mac), which enables users to program the RS-31H to alternate between the two operation modes. The tool also allows users to program footswitch pedals to mimic functions handled by keyboard shortcut keys/hot keys in third-party software.
The center or top pedal feature a lock release for user configuration and preference.
Package Contents
RS-31 H Foot Switch
NOTE: There is no software with this footswitch.
Product Downloads
Olympus RS-32H Hand Controller

Packed with advanced features, Olympus' new RS-32 Hand Controller is a multi-function device that gives transcriptionists and Professional Dictation System users hands-on control over their files.
Add ergonomic transcription functionality to any standard keyboard. Improve efficiency for non-footswitch users. Increase the functionality of your DS-7000 or DS-3500 handheld voice recorder by using it as a tethered remote control.
PC & Mac Compatible.
Package Contents
RS-32 Hand Controller
Wrist rest
USB cable
ø2.5-DIN cable
Instruction manual
NOTE: There is no software with this hand controller.